India needs to find a balance between remaining competitive and being financially secure and stable in a troubled economic climate, Infosys' Chief Mentor N R Narayana Murthy said in Mumbai on Friday.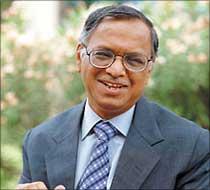 "Despite the relative health of the Indian economy, we should be mindful of the fact that the danger of an economic downturn in India has not yet passed and situation could change rapidly," Murthy told reporters on the sidelines of an industry conference.
The Indian corporate sector, he said, has been extremely fortunate in escaping the worst of the global financial crisis. While America and other Western countries posted sluggish growth rates and witnessed spiraling unemployment, India's economy grew 6.8 per cent during the financial quarter in June, up from 5.8 percent in the previous quarter.
But "We must be alert and careful to temper our optimism with realism," the Infosys founder said.
To reduce sub-contractors
Infosys plans to reduce the usage of sub-contractors and do its work in-house, especially at cheaper offshore locations, Murthy said.
"We found during our reviews that a large number of client work had been outsourced to sub-contractors. In such cases, we decided to reduce the usage of sub-contractors and use our (own) facility," Murthy told PTI.
The company has also taken a new concept "more from the same", which will scrutinise budgets and look after areas where previously unnoticed expenses could be eliminated, he said.
Infosys believes that this new concept will benefit the company, its shareholders and its employees. During the second quarter of FY 10, the company saw a 2.9 per cent increase in revenues from the first quarter.
"Our new concept is to scrutinise budgets and operations which can yield surprising areas for improvement and produce significant results," Murthy said. Major expenses came to light related to non-billable travel and work, and to tackle this, the company recalled many of its employees working on-site in non-billable roles for its clients to off-shore locations which were cheaper, Murthy said.
Source : rediff.com
Bought to you by
HRI Foundation
303 Motherland Building
3rd Main 3rd Cross
Kamanahalli
BANGALORE 560084
www.twitter.com/Raghav_HRGuru
sowmya@hrinindia.in
# 91.98800.80321